Last week went so well, they're doing it again!
Smart and Trendy Moms
is hosting this Social Parade for socializing and gaining new followers!
How it works.
Grab the link-up button and post It's a Social Parade!! Wednesday Link-up. Every Wednesday a new linky will be posted with that weeks exchange info.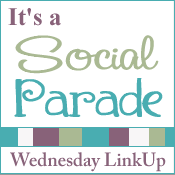 This week is Google Friend Connect Round Up!!
To participate:
Follow the blog in the first spot via Google Friend Connect. I will follow all on the linky! All blogs participating must post about Social Parade and link to that on the linky:)
Link-up your blog post for "It's a Social Parade" that you made on your blog. This week you need to include your fanpage link in the post for others to Like/Fan you back.
Follow as many as you like commenting on their POST as you do so they can follow back!
If you do not make a post and link that up, it is unlikely that someone will search around for a post to comment on.
DO NOT LINK TO THIS POST UNLESS YOU ARE PARTICIPATING IN SOCIAL PARADE-YOU MUST LINK TO YOUR POST ABOUT SOCIAL PARADE