Whew! Are YOU ready for Christmas? I'm sure not! Things have been CRAZY in the Froggy household. Lots of unplanned and unexpected "events" that have pulled me away from the computer. So in trying to get back in the swing of things I'm starting this Monday with Mailbox Monday - THANK YOU to
This Mama Loves Her Bargains
for keeping up with Mailbox Monday. And to finish out this last week before Santa makes his rounds, I will be bringing the Ultimate Holiday Gift Guide to a close. Be on the look out for a HUGE giveaway and lots of great last minute gift ideas!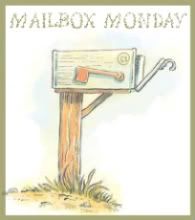 Welcome to Mailbox Monday!! A blog hop to boost your subscriber count!
Here's how to join in the fun:
Add your blog link to the linky

Subscribe by email to the three hostesses. They will return the favor.

Visit the other blogs on the list and subscribe by email to the ones that interest you. Leave them a comment with your blog link so they know you are subscribing from Mailbox Monday. Don't forget to confirm your subscription!
Everyone is welcome to participate. Each week a new linky will be generated so make sure you stop by on Monday's to add your blog.
Your blog *must* have a place for people to e-mail subscribe.

We will be subscribing to everyone's blog who participates. If there isn't an e-mail subscribe option, your link will be removed from the linky.
The Mailbox Monday Blog of the Week is Living on Love and Cents which takes the #4 spot on the linky. Next week, we will choose from this week's participants for the Blog of the Week.
Help us spread the word about Mailbox Monday! Write a post for your blog and add the blog hop code.
Let's have fun and meet (and read via email) some new blogs!