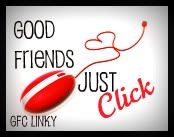 Let's be friends, link, click, and connect!
No rules!

Now just follow as many as you can on the link below and become friends- because you know, blog friends are some of the best friends you can have in life -just ask us!

Leaving comments is a plus on your way to new friendships. Stumbles, Tweets, and FB Likes are a great way to show love too!
Sorry folks! I have tried and tried but I just can't seem to get the HTML for the linky to work. You can click the button above and you'll be taken to one of the hosts pages that contains the linky. Happy hopping!