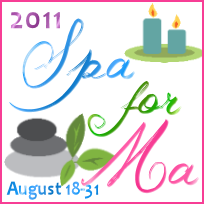 Shouldn't moms be pampered and spoiled more often? I think so. Spa for Ma is a blog event designed especially with moms in mind. The event will run from August 18 - 31 with up to 200 participating blogs. Each blog will be hosting giveaways with a minimum total value of $100.
Sound like an event you'd like to participate in? Click the button above, or visit
Measuring Flower
, for more details and info. on how you can join!
If you are a PR rep who has products you'd like featured during this event, please e-mail me at Darwinsfrg AT gmail DOT com